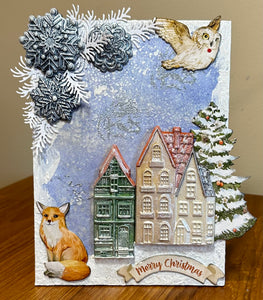 Step into the enchanting world of Stamperia's
Winter Valley
with this gorgeous Christmas Canvas.
Add shiny snow to the sides of the canvas as well as building up the bottom right corner, using
Stamperia Heavy Body Paste
, dabbing it with your fingers to give a stunning snowy effect. Another spray of
Stamperia Pearl White Aqua Colour Spray
over the whole canvas will give it a great shimmery finish. Using your fingers, apply
Stamperia Arctic Snow
on top of the snow in the bottom right corner, this will leave you with shiny, glittery snow!
Thank you for visiting our Blog, we hope you enjoy creating this stunning canvas!