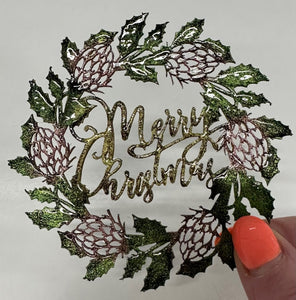 Lynette has skillfully crafted a stunning glossy and  intricately adorned chipboard wreath. The technique she employed is versatile and can be applied to embellish any chipboard items to give your projects that extra touch.
Working with a Mintay Chipboard (D58) measuring 12" x 12", Lynette selected a charming Merry Christmas Wreath design. She sealed the chipboard using Stamperia Black and Matt Superbase, creating a great base.
The transformative stage involved enhancing the chipboard with Stamperia Stardust Metallic Pigments. Golden Sun, Astral Green, and Nebula Rose were applied using Stamperia Beeswax-moistened fingers. This method adds a gorgeous shimmery finish.
To achieve a glossy shine, Lynette coated the chipboard with Ranger Glossy Accents, and allowed to dry overnight. The result is a gorgeous shiny chipboard piece, that will give your Christmas cards and various projects that extra touch.
Simply Stunning, and very easy to do! Enjoy!